I finally accomplished a little dream of having my very first kitchen robot on the last Black Friday. I was wishing for one since we got our home and after having a session learning more about the new Bimby in my mom's house in the autumn, I was dying for one! So after many budget calculations I went ahead and bought the new Yammi 2 Upgrade.
I was so happy to be buying my new kitchen BFF that I had to try it the very next day making, off course, a cake for a dinner at our friend's house.
I decided to try to make one of my favourite Bimby deserts: the Chocolate Delight / Maravilha de Chocolate. Yummm! So good!
I started by opening the box, checking that had everything, making a unboxing video for Youtube… like everyone does… And was very happy about it. Like, very very happy!
Yes, you guessed it. That didn't went well…
While the chocolate was melting with the butter I figured it out that it wasn't getting any warmer. The temperature wasn't changing. The cup was cold. Like, totally cold! Yes, the machine, the incredible kitchen robot, wasn't working correctly – at all.
By that time, and after already had passed an hour trying to understand why it was always biping and saying that it was not locked when it wasn't supposed to be doing anything (hello? it's open, I'm not programming anything, shut up!), and being late for the dinner, I decided to breath deeply, don't give up and put all the content in a pan on the stove and working my magic manually.
Yes, the cake was finished and put in the oven. The problem was the final part.
When I took it of the oven, it was so flat, that it didn't had 5 cm of height. I was so upset, so frustrated that I discovered how the tenant before me got the ceiling dirty. Yes, I just did this: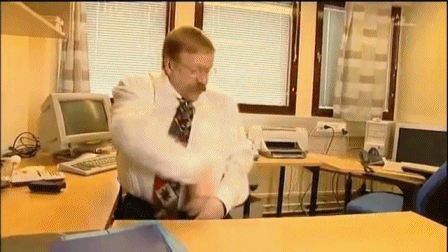 But with chocolate cake.
Yes, there was chocolate cake everywhere.
Yes, even in the ceiling.
Yes, I cried.
Yes, a lot.
And yes, my fiance heard.
And yes, he's awesome because when he understood what had happening he laughed. A lot.
And yes, this was my first experience with a kitchen robot. No, I didn't gave up. I went there and switched it by a new one. A working one. And already made a few recipes in it, which worked out as supposed to. (Excepted that time I was making orange jam and forgot to mount the robot correctly and orange and sugar were everywhere.)
But anyway, I'm really enjoying this new challenge in the kitchen. If you want to know more about the recipes I've been trying out or where I find new ones, let me know below. This can turn into a series, where I just tell you about how bad I'm sometimes in the kitchen.
Big kiss,
Tânia
PS: And yes, the cake was good. André got to taste what was left in the cake pan and had already asked me to try again. Uff, something got right at least!